Back pain and injury treatment in Essex and East London
There are a whole range of different types of back pain, from mild 'mechanical' back pain through to more significant issues where there can be stress fractures or disc herniations . Whether your back pain is simply a niggle,  the after-effects of an injury or has developed over time (maybe from work-related habits or from heavy lifting), we recommend anyone with ongoing back pain to come and see us at the Lewin Clinic to be fully assessed , advised and given a plan to get you back to pain-free.
Contact us for a Back Injury appointment
Different types of back pain and injuries
The most common types of back pain that we see here at The Lewin Clinic, are :-
Mechanical back pain

Herniated discs which can be compressing nerves (sciatica symptoms for example)

Stress fractures to vertebrae 

Soft tissue injuries or more 'non-specific' back pain that needs advice.

Pregnancy related back pain
Even the mildest of back pains can be a hindrance in your life, especially if you're otherwise active and fit.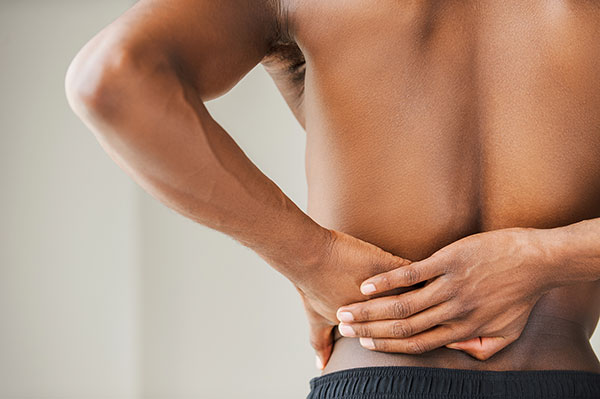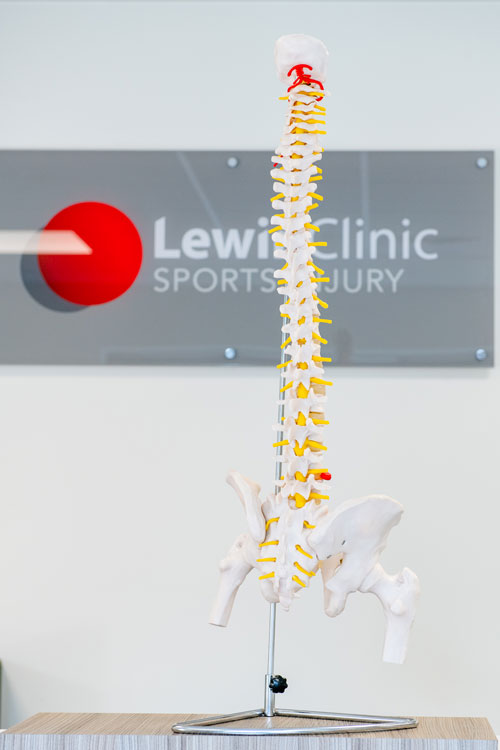 How can you treat back pain?
Treatment of back pain varies, depending on the issue.  However there are a range of solutions that we offer here at the Lewin Sports Injury Clinic, including:
Education and advice on the issue – often reassurance regarding the cause and a plan to restore function again

Manual therapy where indicated

Strength work for the back , the trunk or 'core'

Hip stability exercises , especially gluteal strength

Acupuncture
Our physiotherapy treatment plans are aimed at reducing pain for our patients, as well as providing education on the different exercises you can use to strengthen your muscles and try to prevent any injuries from reoccurring. Strengthening is a vital part of your recovery in most back pain episodes. If you come to us with a back pain or back injury, in your sessions we'll look to:
Look to find the cause of the problem

Educate you on the issue

Suggest initial pain relief options

Provide a recovery plan to increase your mobility and strength

Restore the full function of your back
How long is the recovery for a back injury?
Again, this can vary massively depending on the type of back injury you have.  For mild cases we would usually expect most symptoms of pain to be resolved within a few sessions, but obviously longer for more severe cases. At the end of your assessment, your physiotherapist will discuss with you whether there is any indication that a scan may be necessary or indeed helpful in the overall treatment and management of your condition. They will also discuss other treatment and management options, such as the need for onward referral for surgical opinion, should this be relevant, based on the assessment findings.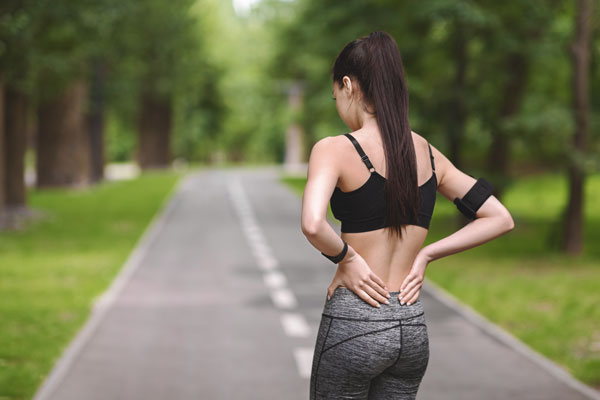 Are you looking for back injury or back pain recovery in Essex or East London?
Here at the Lewin Sports Injury Clinic, our physiotherapists are trained in a wide range of back injuries, with access to the latest technology, treatments and industry specialists, to help get you on your healing journey as quickly as possible. 
We'll create a personalised physio / recovery programme for you, helping you to return to full health, and the sport you love, in the quickest and safest manner. To make an enquiry, click here or give us a call on 020 8070 7777.
After many years of a lower back injury I went to see Gary at the Lewin Clinic.  This particular time my injury was the worse it had been keeping from doing basic movements and no form of exercise.  He explained that the injury was a degenerate injury that he could not cured but can be eased and strengthened.  After several sessions, manipulation and some strengthening exercises it stated to improve.  I had a strengthening routine from Gary that no other physio has offered before.  I'm now back playing football, running and going to the gym.  I can't thank Gary enough.
Peter Dutton
I had a hardworking but great experience getting back to fitness and back playing football after being out of action for 12 months and having to undergo back surgery during this 12 month period. Gary was a great help and guided me properly, preventing me from other injuries along the way, by updating my workout program gradually and not rushing to get me back. I felt Gary's workout plans had a big part to play in my return as they were specific to me and was the right intensity based on the progress I had made over 6 months I was there. He made it possible for me to be able to fly out in time to America for my football scholarship, fit and able to play, where I continue to use Gary's plan to ensure these injuries do not happen again.
Dylan Gray
I went to see Colin for a persistent lower back pain that I have had for almost 18 months. He was the third physio I have seen, the previous two I ended up giving up as I saw no improvements.I saw him for four sessions only and was discharged after. I was skeptical at first when he gave me rotational exercises to strengthen my obliques, but a few weeks of doing those and I am completely pain free. Not only that, but I am also back at the gym squatting weekly, and pushing almost 60% of my all time PR already. 
EO Sharabi

Opening Times
Monday - Friday 8am - 8pm
Saturday 8am - 1pm