Shockwave therapy. For the relief of tendon pain in Essex & East London
Shockwave therapy, or Extracorporeal Shockwave Therapy (ESWT) is a non-invasive treatment used to help heal soft tissues and reduce pain associated with soft tissue injuries.
This completely safe practice can sometimes be an alternative to surgery or steroid injection therapy treatment, effectively treating injuries such as plantar fasciitis and tendon conditions, with positive results typically seen in around 3-4 sessions.
Here at The Lewin Sports Injury Clinic, we work with clients from a range of backgrounds, from professional athletes to those who have been injured doing their regular workouts or playing club level sport.
Contact us for Shockwave Therapy here
How does shockwave therapy work?
Shockwave therapy works by stimulating the metabolic reactions in your soft tissues, encouraging the healing process, often with a high rate of success. During your session, the shockwave therapy treatment head is then applied directly onto the area of pain, with the shockwaves provoking your body to increase blood circulation and trigger stem cell activation and enzyme production. This process can often instantly promote healing and pain relief, with improvements expected in around 3-4 sessions.
There is no sedation or anaesthetic needed during the therapy treatment and although it can be uncomfortable it is tolerated by patients very well.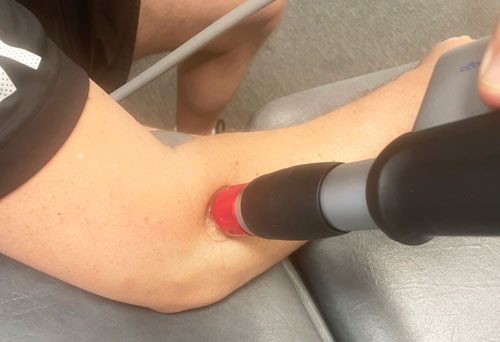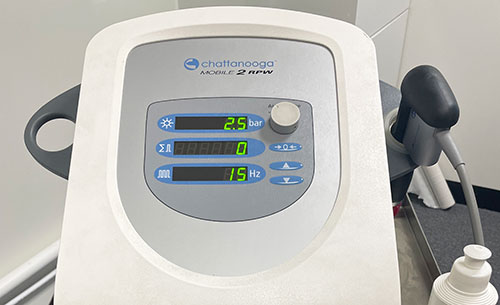 Some of the common injuries that shockwave therapy can be used for include:
 Shoulder pain

Tennis/Golfer's elbow

Achilles tendinopathy
The benefits of shockwave therapy
Shockwave therapy is a fast and effective way of resolving soft tissue injuries that are otherwise hard to heal. The treatment offers a long-term solution and would always be used alongside other treatments as part of your tailored therapy plan.
Additionally, this treatment offers:
Fast and effective pain relief

Non-surgical solution

No risk of infection

No medication required

No pain relief needed during sessions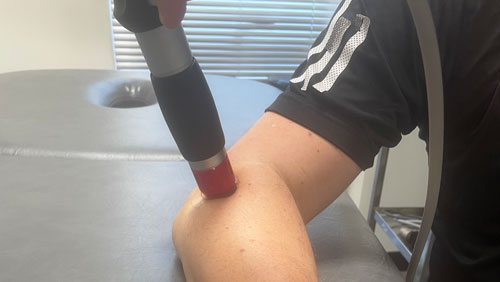 How safe is shockwave therapy?
Shockwave therapy is known to be an extremely safe practice, with no known serious side-effects, although there is potential for less serious side-effects such as redness, tingling and aching. Our initial assessment will identify whether you are a good candidate for shockwave therapy based on your medical history and condition.
Although this method is recommended for a whole host of different injuries and conditions, we do not advise that you use this if:
You are pregnant

You have any circulation or nerve disorders

You are using blood-thinning medication

You have any severe circulatory disorders

 
Are you looking for shockwave therapy in Essex or East London?
If you're looking for shockwave therapy in the Essex or East London areas, the Lewin Sports Injury Clinic can help you. Our expert therapists are on hand to answer any questions you may have, and you're welcome to come to our clinic for a consultation.  To make an enquiry, click here or give us a call on 020 8070 7777.

Opening Times
Monday - Friday 8am - 8pm
Saturday 8am - 1pm