Our Essex based Pilates Reformer - helps Improve your strength, mobility, balance, coordination
Here at The Lewin Sports Injury Clinic, we have a team of experienced physiotherapists who can understand the root cause of your pain and design a tailored recovery plan for you to improve your low back pain. 
The Pilates reformer is a great way to help improve your pain.
Contact us for a Pilates Reformer appointment
What are the most common needs for Pilates reformer?
The pilates reformer is perfect for improving strength, flexibility, balance, coordination and posture.
How can The Lewin Clinic help you with Reformer-based rehabilitation?
Our team of expert physiotherapists have a huge amount of experience working with patients with low back pain and will be able to assess and diagnose your injury, as well as create a personalised rehabilitation programme.
We work with a wide range of patients, including professional athletes, non-athletes and those in-between, who enjoy sport as a hobby. We're skilled in assessing spinal pain and can build an appropriate programme . We work widely in rehabilitation for general low back pain, sciatica pain, post spinal surgery and spinal sports injuries. We also have a network of surgeons that we trust implicitly, allowing us to consult with them wherever necessary.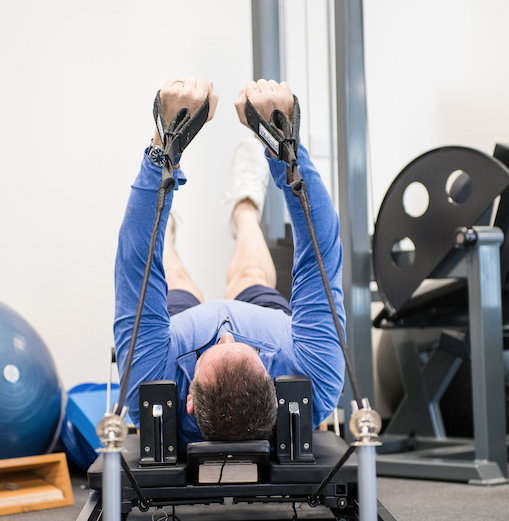 Why would you need Reformer based rehabilitation?
Reformer Pilates is excellent for targeting and creating a stronger core. Many of the exercises performed on a reformer machine target the core whilst working the peripheral postural muscles at the same time. A stronger core is essential to help prevent injuries from occurring.
At the Lewin Sports Injury Clinic, we provide a range of recovery programmes. This can be particularly useful for professional athletes who need to get back to sport quickly and safely, or for those with more severe injuries who need a more structured plan.
Occasionally the injury will need scanning to aid diagnosis and we may need the view of a specialist surgeon who can advise as to whether surgery may be a necessary step in your recovery process. However the majority of issues we see need advice, education and treatment/rehab to aid repair of the injured structure.

Are you looking for Pilates reformer based rehabilitation in Essex or East London?
Here at The Lewin Sports Injury Clinic, we are experts when it comes to recovering and rehabilitating a range of injuries, including low back injuries or pain.
We have access to all of the latest technologies and the best specialists in sports medicine, helping you to improve your issue as quickly as possible. Our physiotherapists will create a personalised recovery programme, ensuring you're back to full health and enjoying the sport you love in the quickest and safest manner possible. To make an enquiry, click here or give us a call on 020 8070 7777.
Garry is very knowledgeable and has given a high level of treatment together with informative and helpful information regarding the cause and rectification of the particular problem enabling a better understanding of how to make the most progress in rehabilitation. Highly recommended.
Gemma Lammin
I took my son to visit Laura on a recommendation I received. She was extremely thorough and has even followed up after the sessions ended to check he is still doing well and the issue has not reoccurred. Everyone at the clinic was so welcoming. I would recommend them to others.
Alison L
World class service from the whole team at the Lewin Sports Clinic, they made me feel very welcome from the first day as they've created a very warm atmosphere.
Parsa Sadigh

Get in touch
020 8070 7777
info@lewinclinic.co.uk
Ground Floor,
65 New North Road
Hainault
Essex
IG6 2UE
Company reg No. - 11731039 (England & Wales)
Reg address:
The Retreat
406 Roding Lane South Woodford Green
Essex IG8 8EY
Opening Times
Monday - Friday 8am - 8pm
Saturday 8am - 1pm